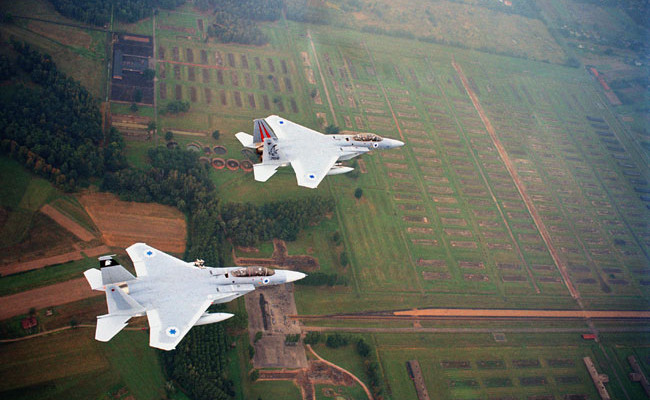 VIDEO : LES AVIONS DE L'ARMEE DE L'AIR ISRAELIENNE DANS LE CIEL D'AUSCHWITZ
|
IAF Jets Fly Over Auschwitz
Commemorate Holocaust Victims
By Arieh O'Sullivan
The Jerusalem Post
Jerusalem—-September 4….Three Israeli Air Force F-15 fighter jets thundered over the Auschwitz death camp Thursday afternoon in a display of modern Jewish might.
As the jets zoomed by at 300 knots an hour, formation leader Brig.-Gen. Amir Eshel read out the following statement, which was broadcast on the ground: « We pilots of the Air Force, flying in the skies above the camp of horrors, arose from the ashes of the millions of victims and shoulder their silent cries, salute their courage and promise to be the shield of the Jewish people and its nation Israel. »
The Israeli F-15s, originally invited to Poland to celebrate the Polish Air Force's 85th birthday, were escorted during the flight by two Polish air force fighter jets. The ceremony ignored marginal protests and heavily overcast Polish skies.
In the cockpits, the Israeli aircrews carried the names of all those recorded murdered in Auschwitz on this date exactly 60 years ago. They had picked the names out of the records at the Yad Vashem Holocaust Memorial in Jerusalem prior to flying to Poland last week.

The jets, displaying the blue Star of David, flew toward the Auschwitz-Birkenau concentration camp as slowly as possible, followed the railroad tracks leading into the camp and crematoriums and then peeled away.
Among those on the ground was a contingent of 140 IDF officers who were selected to visit Europe's death camps. Following the fly past, the jets, the most lethal aircraft in the IAF's arsenal, landed back at Radom air base, refueled and set out on the 1,600 nautical mile route back to Israel.
« They are passing over this most awful place on earth, a place where the allies did nothing to even show they were even trying to save us, » said Prof. Shevach Weiss, Israel's ambassador to Warsaw.
happywheels